Smart Meeting Minutes
The idea is simple: type everything (notes and agreed action items) during the meetings on desktop in Salesforce, share the information at the end of the meeting with all parties as a PDF or DOC and move on.
Smart Meeting Minutes created by Attention CRM Consulting is a compact sales effectiveness app for sales people who can take notes and record internal and client tasks on one screen within Salesforce during meetings or calls.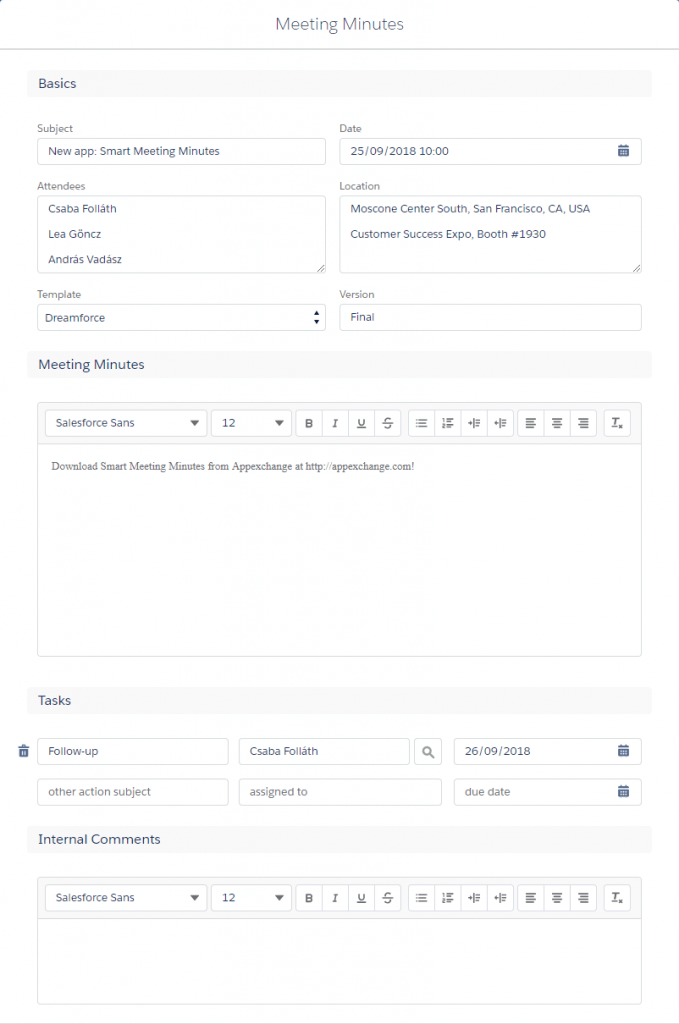 With Smart Meeting Minutes, sales people can share notes with participants and other parties as a .pdf document or word document after the meetings. The related tasks are auto created and the minutes are available for colleagues attached to the related Salesforce records. As an extra feature, Smart Meeting Minutes templates are also available.
Benefits
Record and Share on The Spot
Decrease Admin Time
Impress Clients
Ensure Key Topics are Covered
Introduce New Templates Easily
Follow Action Items
Build a Text Meeting Discussion Database
Functions
One Screen
Seamlessly Built Into Salesforce
Take Notes
Record Action Items
Share as Document (PDF, DOC)
Easy Template Creation
Salesforce Tasks are Auto Created
Minutes Stored in Salesforce
Minutes Shown on Event /Account / Lead / Contact / Opportunity
Track Task Status
Searchable Database of Minutes
Name, Place, Parties Auto Populated
Versions